---
NOTE: BUY 3 SETS FOR BND$30 EACH SET. ENTER CODE 'LIPOBUNDLE' TO CLAIM DISCOUNT AT CHECKOUT
BETAFPV 300mAh 3S battery with XT30 plug has a small size of 16*17.5*48.5mm, which is rare in the current market. With a high capacity of 45C, it can perfectly suit for most carbon fiber drone-like toothpick. This is the best battery for our Beta75X 3S whoop which enables you to experience powerful flight by doing simple handwork on the frame.
How to Fit 75X Frame
If you want to update your Beta75X drone with this 3S battery, what modification needed for the frame battery slot? Please kindly cut out these three sticks ①②③ by using the scissors as the following picture to fit the 3S 300mah Battery.
Features
Suitable for Beta75X 3S, the continuous discharge rate is up to 45C, provide reliable power for the whoop.
Enduring and powerful, enabling you to get 4 min 30 sec flight time on the Beta75X with smooth flight in a windless environment.
With a small size of 16*17.5*48.5mm and lightweight of 26.1g, which is rare in the market.
This battery is packed with vibration-proof & fire-proof material and our battery box ensuring you get your battery in perfect condition.
Here is the testing report between GNB 3S 300HV 30C battery and BETAFPV 3S 300HV 45C battery under 12A in 26℃.
Specifications
Item: 3S 300mAh Lipo Battery
Capacity: 300mAh
Voltage: 11.1V
Discharge Rate: 45C
Max Burst Discharge Rate: 75C
Connector: XT30
Size: 16*16.5*48.5mm
Weight: 26g
Flight time: 4 minutes on Beta75X 3S drone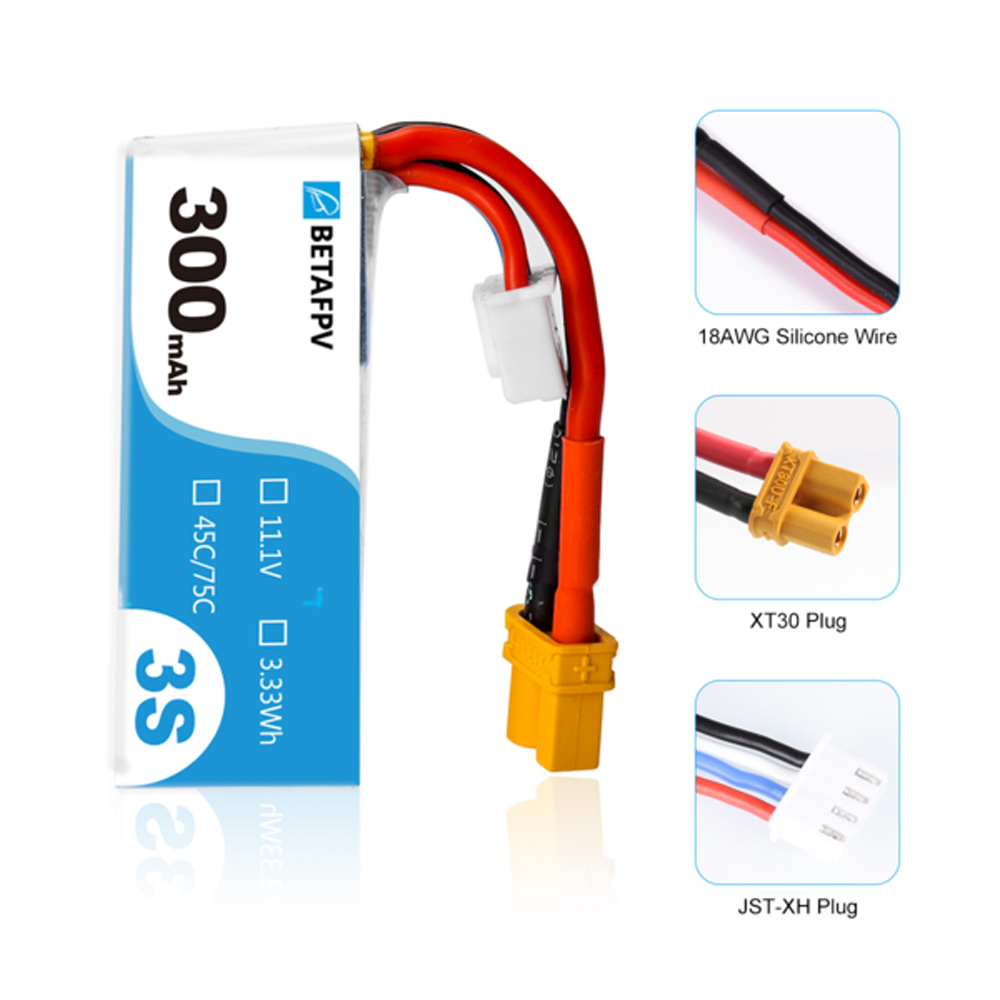 Includes
2 x BETAFPV 300mAh 3S 45C Battery