---
Features
F4 V2 FC board has added extra 4 pluggable ports for ESC, VTX, RX and LED board, convenient installation and decreasing the dislocated PIN mounting.
High-performance STM32F405 processor FC boards and tuned Betaflight OMNIBUSF4SD (OBSD). Faster input signals with lower latency and higher update rate are possible.
Replaced stock antenna with a Lumenier Micro AXII antenna for maximum range and clarity of video feed.
Using single N-channel MOSFETs on ESC board which have a lower inner resistance. It is dual MOSFETs on the original BLHeli_32 ESC board.
Soldered with 25V/220uf of electrolytic capacitors for protecting the ESC board, reducing the defect rate caused by the quick bursts of high voltage.
Installed with Caddx Tarsier 4K camera with and included ND8 filter which supports APP setting and switchable resolution setting of 4K, 2.7k, 1440P, 1080P.
Optimized 1105 motor from 6000KV to 5000KV, with a lightweight but powerful feeling. 
To increase its stability, we specially add an extra stiffener brace of carbon fiber to the frame. No soldering or tinkering necessary!
450mAh 4S high rate battery is recommended. But pilots could also use other 3-4S batteries. (Not included)
For 85mm brushless whoop drones, there are 3 versions for your choice - Beta85X FPV, Beta85X HD and Beta85X 4K.
Specifications
Weight: 88.6g (without battery)
F405 V2 Flight Controller and 16A BLHeli_32 ESC
Motors: 1105 5000KV with connector
Props: 2" 4-Blades Props
Camera: CADDX Tarsier 4K
Canopy: Canopy for Tarsier 4K camera
Recommend battery: 4S 450mAh Battery (Not included)
Antenna: 5.8GHz Micro AXII antenna
Flight time: 4min - 6min with 450mAh 4S battery
FC Specifications
CPU: STM32F405 (Overclock to 240MHz)
Six-Axis: MPU6000
Size: 26mm x 26mm, whoop mounting pattern
Firmware version: Betaflight OMNIBUSF4SD (OBSD)
OSD: Built-in BetaFlight OSD (STM32 controls OSD chip over SPI in DMA mode)
ESC Specifications
Support BLHELI_32
Support PWM, Oneshot125, Oneshot42, Multishot, Dshot150, Dshot300, Dshot600, Dshot1200
Input voltage: 3-4S lipo
Continuous current: 16A
Peak current: 19A
Firmware target: BETAFPV-16A-32bit
MCU: STM32F051K66
Camera Specifications
Weight: 19.5g
FOV: 4KF 2.8, FOV 150°(16/9), FPV FOV 165°(4/3)
Lens: Dual lens 2.8 / 12Mega
Image Sensor: 12M SONY sensor
TV System: NTSC / PAL, can be changed
Anti-Shake: Hardware anti-shake
Scene Mode: Auto / Personage / Scenery / Defog
Recording Timing Larm: OFF / 1mins / 3mins / 5mins / 10mins
Horizontal Resolution: 1200TVL
Image: 16:9 / 4: 3 (changeable)
Camera OSD: Separate OSD
The camera tilt angle is switchable from 20 degrees to 30 degrees with an ND8 filter.
AXII Antenna
BETAFPV lost a bunch of prototype drones because of this AXII antenna. Why? The 5.8g VTX signal is still perfect when the RC radio transmitter connection breaks up! This is why we chose this micro antenna for the Beta85X 4K.
Micro AXII 5.8GHz Antenna is the next evolution of the world's most popular FPV antenna, designed by TrueRC and manufactured by Lumenier.
Learn more about Lumenier antennas.
What Was Done To Support 4S?
This Beta85X has upgraded in individual parts like FC, ESC, Motor, which can support 4S power with a steady performance and bring you into a new FPV experience.
F4 FC & BLHeli_32 ESC
Support 4S Power. Written for ESC's that utilize 32-bit MCU. With the increase in processing power, faster input signals with lower latency and higher update rate would be possible in BLHeli_32, such as Dshot1200!
Using single N-channel MOSFETs on ESC board, which have a lower inner resistance. It is dual MOSFETs on the original BLHeli_32 ESC board.
Current sensor included.
ESC is mounted on the frame by screws and connected with FC boards by cables.
Power Capacitor
Soldering with a 25V/220uf electrolytic capacitor, reduced the defective rate caused by the instantaneous high voltage.
1105 5000KV Motor
Lower 5000KV for new Beta85X 4S, which could support 4S power which won't cause the issue of overheating. Also, changed motor cables from 30AWG to 28AWG.
Frame Stiffener Brace
The stiffener brace of carbon fiber reinforced the Beta85X frame, avoids the instability caused by too much power when Beta85x is flying.
Caddx Tarsier 4k Camera
Tarsier camera is the first DVR boards that could support 4K@30fps recording. Here is the basic manual for you to start recording when using the Beta85X 4K drone.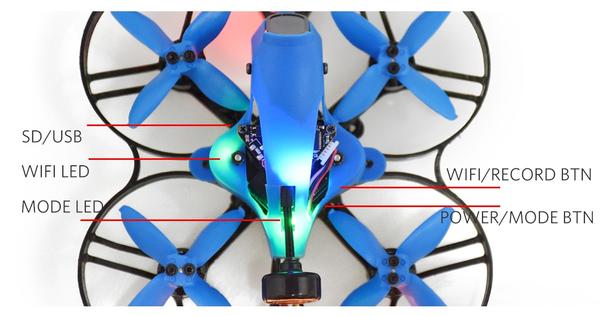 There are 2 buttons on the DVR board. One is for wifi and recording. The other one for power and recording video mode.
| | | |
| --- | --- | --- |
| | Short Press | Long Press (5-8s) |
| Wifi/Record Button | Start/Stop Recording | Start Wifi |
| Power/Mode Button |  Switch Video Resolution | Turn on/off Camera |
There are 2 LEDs to indicate recording status.
| | | |
| --- | --- | --- |
| | Flashing | Flash Solid |
| Wifi LED | Wifi is power on and not connected | Connected |
| Mode LED | Recording | Not Recording |
Also, there is a CADDX Tarsier APP on Apple Store (for IOS phone) or Google Store (for Android phones). Through the APP, you could change the settings like Metering, White Balance, EV compensation, IOS limit, Sharpness, Contrast, Saturation.
VIDEO QUALITY AND SHOOTING TIPS
We cared a lot about the video quality of this 4K drones. Here is some you must know about and some advice for perfect videos!
4K@30fps VS 2.7K@60fps
The frames per second of the Caddx Tarsier camera is 30fps in 4K mode. It is suitable to fly slowly and smoothly. But if the drone flys quickly or turns around, the scenes seem to be out of focus and fuzzy. At this time, we would recommend you to shoot in 2.7K@60fps if you are doing aggressive flying but still want smooth recordings.
How to change the Tarsier mode between 4K and 2.7K?
You should change the recording resolution through the Caddx APP. The other method is just short press Power/Mode Button, as shown in the image above. The mode is indicated by the color of the Mode LED.
Mode LED -> Red -> 4K mode
Mode LED -> Green -> 2.7K mode
Jello and Vibration
The 85X drone is tuned carefully to avoid vibration and it should be no jello on the video. BUT, but if you fly it outdoor and sunlight, an ND filter is MUST. Use the ND8 Filter to get better footage and eliminate the Jello effect.
Props Out
The Beta85X drone also comes with "props out" by default. Why we need "props out" direction?
Default Betaflight props direction, quadcopter dips and "washes out" in hard corners. With reversed props or "props out", no more dipping even in the hardest cornering.