---
CASH PRE-BOOKING TO BE PAID HALF UPFRONT AND BALANCE UPON COLLECTION.
FOR THOSE PRE-ORDERING UNDER HDH PAYMENT SCHEME, WILL PAY IN THREE (3) INSTALLMENTS. 1st INSTALLMENT TO BE PAID UPFRONT AND REMAINING INSTALLATIONS CONTINUED 30 DAYS AFTER COLLECTION. 

THE 16 INCH KING
The V12 marks InMotion's entry into the fast and powerful 100V wheel space. Able to reach speeds above 40mph in a 16 inch form factor, it gives Gotway's Nikola a run for its money! Packed with a ton of features, including powerful Bluetooth speakers, a touch screen for displaying wheel stats and changing settings without the need for a companion app, ultra-customizable RGB accent lighting, adjustable pedal heights to allow for improved performance either at speed and while offroading (or somewhere in between), low and high beams to avoid blinding pedestrians, and much more, the V12 really can do it all!


---
The V12 comes equipped with an industry-first touch screen which can be used to see and control everything about the wheel. Yes, everything. View speed, temperature, and battery stats, change settings, adjust pedal tilt on the fly, perform calibrations, and more without ever needing to take out your phone. Save for a few features which require either an internet connection or a larger screen, such as firmware upgrades and DIY light patterns, the V12 can be controlled day-to-day without the need for an app.
We first saw adjustable pedal height on King Song's S18, however it was intended not as a way to change the ride feel, but rather as a way to ensure a tight fit between your ankles and the wheel's built-in ankle pads. The V12 takes this concept to the next level, offering three pedal heights to suit different riding styles. Riders may want to choose the highest setting for maximum ground clearance, the lowest setting for maximum stability at speed, or the middle setting for a happy medium between the two.
Packed with plenty of familiar usability features as well as some new ones, there are few things the V12 can't do. Like other wheels, it includes a trolley handle, lift switch, Bluetooth speakers, customizable RGB lights, and a V11-like kickstand for parking your wheel anywhere. However, the V12 also includes a USB-A charging port for other devices as well as a USB-C fast-charging capable port for even more power on the go, as well as auto-headlights which respond to ambient light conditions and can can be toggled between low beams, high beams, or both at the same time.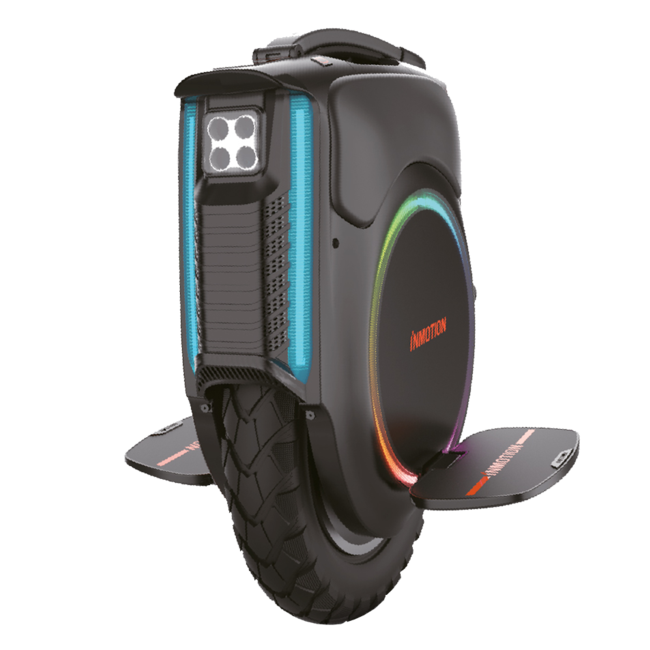 INMOTION V12 SPECS
Motor:
2500W nominal, peaks much higher
Top Speed:
Claimed - 43.5 mph
Real Test - ~41.5 mph (can reach 43.5mph momentarily, but tiltback makes it very difficult to maintain speeds above 41.5mph)


Safety Warning System:
Alarms & Tilt-back (configurable in app)
Built-in Handle:

 
Retractable trolley, anti-spin lift sensor
Lights:
Powerful high and low combo beams, front, rear and side RGB animated LEDs (configurable in app)
Speakers:
Built-in high volume drivers with streaming Bluetooth music playback

INMOTION APP

InMotion wheels are supported by the InMotion App available for iOS and Android. Take a close look at your stats in real-time such as battery charge, voltage, internal temps, change wheel settings, upgrade the firmware, customize RGB light patterns and sounds, and more with the app.


Download